Celebrating a birthday in the House of Experiments
Celebrations are held on Fridays and Tuesdays from 18:00 to 20:00.


The price of EUR 220 includes up to 25 persons, an adventure and a present for the birthday boy/girl.
Two adult accompanying persons who are responsible for the children have to be present at all times during the celebration in the premises of the House of Experiments.
For reservations and additional information, call 01 300 6888.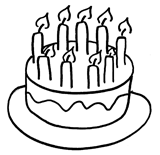 BASIC INFORMATION
individual visits
Tuesday, Wednesday and Thursday from 10.00 to 13.00
saturday and sunday 10.00 - 18.00
saturday 01. 4. 2023 at 17.00
null*
sunday 02. 4. 2023 at 17.00
null*
group visits
tuesday, wednesday and thursday
9.00 - 15.00