Using a modelling saw, cut a smooth plastic pipe (2.5 cm in diameter) used for electrical installations into pieces of the following lengths:
32,8
cm,
29
cm,
25,8
cm,
24,3
cm,
21,6
cm,
19,3
cm,
17
cm,
15,9
cm.
">Mark each piece with a colour as shown on the image (click to enlarge).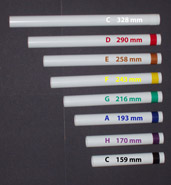 How to play
">Hold a pipe with one hand approximately at its half-way point. Use the open palm of your other hand to tap the pipe on one of the open ends. Repeat this several times.
The instruments are now tuned. All that is left to do is write the notes of the song you would like to play, with colours. See the example in the picture below (click to enlarge).
One of the musicians should take on the role of a conductor. When the conductor points to a particular colour, all musicians holding the pipe with the colour in question should tap their pipes.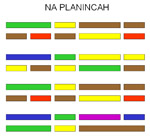 BASIC INFORMATION
individual visits
During the winter holidays the house will also be open from February 1st to 5th and February 8th to 12th from 10.00 to 18.00
Tuesday, Wednesday and Thursday from 10.00 to 13.00
saturday and sunday 10.00 - 18.00
saturday 04. 2. 2023 at 17.00
bubbleology*
sunday 05. 2. 2023 at 17.00
everyone equal, everyone different*
group visits
tuesday, wednesday and thursday
9.00 - 15.00